Sept 19/2015
Nova Scotia Chiefs of Police Association and Halifax Regional Police Service support 211 – Mobile App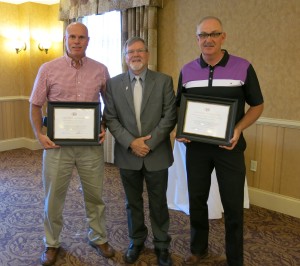 Pictured left to right: Chief JM Blais HRPS, Mike Myette Executive Director 211, Chief Peter MacIssac CBRPS, President NSCPA
When you don't know where to turn to find help – use your mobile phone – it's even easier now
Truro, NS – Nova Scotia's  211 information and referral service launched 2 ½ years ago and since that time they've received 50,000 phone calls and more than 100,000 visits to their website.  Thanks to the Nova Scotia Chiefs of Police Association and the Halifax Regional Police Service, finding services on 211's website is now a lot easier for people who are "on the move".  Both organizations, together with a local telecommunications equipment provider, Anixter International, recently contributed funds necessary to make the 211 website "mobile friendly" so that users, including police officers, can search for programs in and near their communities directly from their mobile device. The work included re-designing a number of the website's elements to fit smaller screens and enabling links so users can  quickly search resources and place calls to helping agencies across the Province.
" Whether you're a service provider helping  others or the person receiving that help, the use of portable technology is more "the norm" than ever  said   Mike Myette, Executive Director of 211 Nova Scotia. "We knew that we really wanted  to do this but for us, as a not-for-profit association , it isn't always easy to find the funds. We are very grateful that Halifax Regional Police and the Nova Scotia Chiefs of Police Association stepped in with funding to make this milestone possible."
Halifax Regional Police Service Deputy Chief Bill Moore, speaking on behalf of the Chiefs of Police Association, said "A lot of a police officer's work in the community involves interactions with people who can benefit from programs and services that 211 has information on. Using mobile technology gives us the ability to reach out to those resources "in the moment" and this can make a big difference in creating "win-win" outcomes."
Myette was at the annual Nova Scotia Chiefs of Police and Police Governance Board Conference on Saturday September 19th in Truro to recognize the contribution and to present certificates of appreciation to the Police Chiefs Association and to Halifax Regional Police Service.
About 211 Nova Scotia
211 is a single access point to a community's full range of social, health, and government services for Nova Scotians. It can also help service providers connect their clients to the services they need quickly and efficiently. The service is available by phone 24/7 or online at www.ns.211.ca. Interpretation services are also available in over 100 languages as well as TTY.
For broadcast use:
Nova Scotia's one stop source for information and referrals is now a click away on your mobile device. Thanks to funding from provincial police chiefs association, HRP and telecom provider Anixter International 211.ca has redesigned the site to make access to information quicker and provide instant connection between Nova Scotians and service providers province wide. When you don't know where to turn, 211 is available by phone, online and now on the move instantly with your smart phone.